Candy's Handjob
Hey there guys! Are you sick of all the hardcore mompov sex scene and you are looking for something a little bit more passionate? Now's your chance to see this hot blonde mommy taking care of her hubby's fat cock! How come she chose to please her guy with a tremendous handjob? Well, it was part of her surprise as she wanted to spice up things around here! How about having a look at what is going to happen over there in their bedroom, shall we?
As soon as Candy came out, she realized that she forgot to buy a present for their anniversary , so she improvised something! Right after having dinner together it was time that she took those close off and invite her hubby into their bedroom! There this lucky bastard laid on the ground and this babe oiled up his large tool and his balls too, just like in this kinky mom scene! Soon after that she began jerking off very slowly while she was also massaging his massive cock! Can you ever think about all that deep and intense pleasure that this guy felt? If you are interested in seeing this crazy dude as he is going to be milked until he is going to release all that juicy and warm jizz all over the place and on his wife's extra large tits, all you have to do is join our community! Don't worry, you will have full access around here! Bye bye!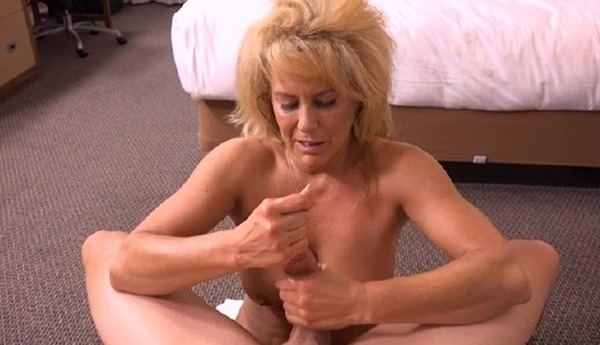 See this mom jerking off a cock in this POV scene!